Answers to all of those burning questions.
WHY DOESN'T THE 'ADD TO CART' BUTTON WORK?
When an item has more than one variation or option available, click on the option you would like first, then you can add that item to the cart.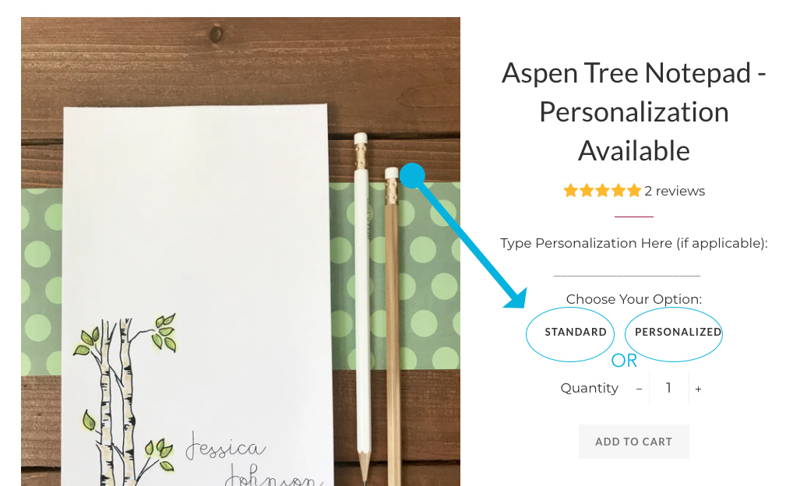 ORDER PROCESSING TIMES
Our standard processing time is 2-4 business days. This time frame may be longer during busy seasons, such as the holidays. Please click the turquoise banner at the top of the page for current processing times.
SHIPPING POLICIES, PRICING & INFORMATION

We are happy to now offer a new $4.95 Flat Rate Shipping on all US Domestic orders - big or small, plus FREE shipping on orders $50+! You are now free to load up that cart as much as you would like while keeping your shipping costs low.
For more information and to see our complete Shipping Policy, click here.
GIFT WRAPPING & SHIPPING

Gifts are the best! We love shipping your gift orders, and do so at no additional charge. Please follow these steps when purchasing items to be shipped straight to a gift recipient.
1. Add items to cart.

2. Enter name and shipping address of the gift recipient in the Shipping Address fields.
3. In the notes box located in the cart, please specify that your order is a gift, and leave a gift message to be included in your order.
4. All done! We will wrap and ship your gift items with love. Our products (gift or not) are beautifully wrapped in brown paper and shipped in either a bubble mailer or box, depending on the contents. Individual cards and very small items (mini quote cards) are shipped in a flat mailer.
*** Please place a separate order for each individual mailing address gift shipments will be sent to.
LOCAL/CURBSIDE PICKUP

A local pickup option is available for customers living in the Denver Metro area and who would like to pick up their order in person. Items will not be delivered (unless previously agreed upon) or shipped when using this method. After your order, you will receive correspondence with the address and directions to the Whimsicals Paperie studio located in Centennial, CO. We look forward to meeting you!
SHOPPING IN PERSON & EVENTS

We participate in events and pop-up shops throughout the year. To see upcoming events, click here. If you are interested in more information on pop-up shops, click here. We look forward to seeing you!
ILLUSTRATIONS & QUOTATIONS

All illustrations featured on Whimsicals Paperie products are hand drawn by Sarah! She creates her images with colored pencils, watercolors and pens, then digitizes them for the design work and printing.
All quotations used on or in Whimsicals Paperie products are either used by permission or taken from the public domain to adhere to US copyright laws.
PRINTING & PRODUCTION

All Whimsicals Paperie products are illustrated and designed by Sarah Collins. We print, produce and package our products in-house. We love supporting local and purchase most of our raw production materials from our favorite local family-owned paper supplier.
CUSTOM DESIGNS & PERSONALIZATION

Sarah accepts custom projects on a case by case basis. If you have a project in mind, reach out and let us know! Please keep in mind that due to the busy nature of the holiday season, we are not able to accept custom projects between the months of November and December.

We do also love suggestions and requests! If there is a certain product or illustration that you would like to see, let us know. Many of the designs have come out of customer requests, and we love hearing what customers are looking for.
Because everything is designed and printed in-house, many of the products can also be personalized or changed in small ways to fit your needs. Please contact us for any questions regarding personalization or minor changes to existing products.
RESPONSIBILITY & GIVING BACK

We believe in taking care of each other.

As a small business ourselves, we support small and local and purchase most of our raw production materials from our favorite local family-owned paper supplier. Whimsicals Paperie also gives to various local and international charitable organizations. We also offer pop-up shops as a fundraising source for educational, religious, charitable, or community non-profit organizations. For more information on hosting a pop-up shop for your organization, visit out Pop-up Shop page, or drop us a line below.

We believe in taking care of our earth.
We love paper, but we also love our trees. We recycle, purchase recycled materials when possible, and strive to purchase from earth-friendly and sustainable paper companies. We support local and international organizations in planting trees and protecting rainforests and other vulnerable ecosystems.

Have a question we didn't answer?
Drop us a line!